Become a confident, strategic leader with our flagship programme
Through this immersive, high-impact programme you will be guided towards heightened self-awareness and develop a greater understanding of your personal potential. Leadership in Management has been developed to provide a safe environment in which to experience carefully simulated challenges and complex situations to facilitate opportunities for growth and learning.  
Who is Leadership in Management for? 

 
Existing or new leaders who want to:   
Identify and develop their personal leadership style 

 

 

Achieve personal and professional growth 

 

 

Discover and nurture their  vision and purpose 

 

 

Lead themselves and their organisation with confidence

 

 

Facilitate greater and more effective collaboration 

 

 

Drive better processes and communication channels

 

 

Remain calm and strategic in the face of complex business challenges

 

 

Gain heightened visibility over themselves and their team's emotions 

 

 

Improve personal and professional relationships 

 

Maintain a successful work-life balance 

 

 

Win hearts and minds and achieve a common purpose! 

 

 
About the

Programme

 

 
At the heart of all our leadership development programmes is the fundamental belief that in order to lead others, you must first know yourself.  
Leadership in Management is offered throughout the year at predetermined dates, and run for 12 months. This timeframe includes a 5.5 day, high impact residential session at one of our training locations which includes up to 22 participants. Individuals join at various points in their career, and from a range of different industries and organisations.  
You will undergo an emotional journey and begin to uncover more of yourself through a range of different mediums, designed to support self-awareness and discovery. The programme gives you the opportunity and encouragement to push your own boundaries, and observe how your behaviours and the behaviours of others has an impact on you. Receiving direct and honest feedback from peers will allow you to undergo a continuous cycle of growth and learning, and provide key takeaways to apply to your personal and professional life after the course. 
While the core component of the course is the in-person training during the residential, you will be supported from the moment you sign up, right until the very end of their leadership journey.   
The

11 Step Process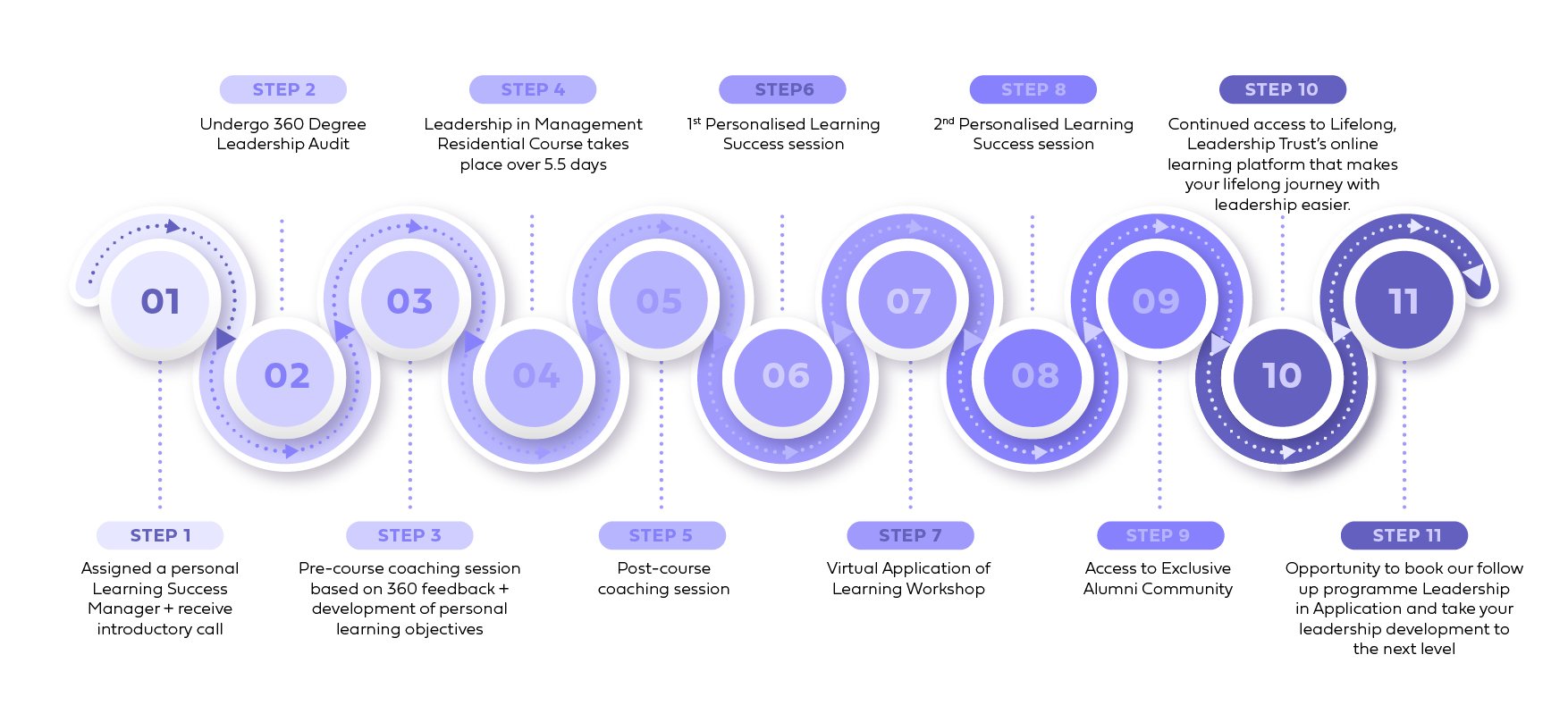 While the core component remains the 5.5 day residential, the Leadership in Management programme has been adapted over 12 months to support delegates further embed their learning. Through our dedicated Learning Success team, we provide a number of supplementary learning touch points, before and after the residential, to ensure delegates are able to get the most out of their experience.
Additional support includes:
360 Leadership Audit & Feedback 
Our 360 leadership audit assessment process helps to give a full picture of an individuals leadership performance. Feedback is requested from a range of people, from both inside and outside your organisation, including co-workers, managers, direct reports and external contacts. The process aims to identify the leadership behaviour, strengths and developmental needs of individuals prior to attendance on the programme. 
Pre-programme Briefing 
Pre-programme connect to ensure you are fully prepared and have everything you need. This is an opportunity to discuss all aspects of the Leadership in Management programme with your Learning Success Manager.
Pre-residential Call 
Feedback from your 360 Leadership Audit is given to you by the 360 Coach who will help you to interpret the report and guide you to set your pre-course learning objectives.
Post-residential Coaching 
One-to-one follow up coaching session conducted virtually with your 360 Coach.
Post-residential Calls
The first call takes place two months after the residential with your assigned Learning Success Manager. It presents an opportunity to chat about your thoughts after the residential, giving consideration to the personal application of individual learning. The second call takes place after 12 months, allowing you to reflect on the past 12 months and to understand how your personal learning objectives are being nurtured back in the workplace.
Learning Implementation Success Workshop 
A half-day, online facilitated group workshop. This provides an opportunity for you to reflect on your experiences and apply what  you have learned to real-life scenarios. A group process, this allows you to  share insights and learnings with your peers who experienced the residential with you.
Frequently Asked Questions
If your question isn't answered in this section, feel free to contact us via email or phone where a member of our team will be happy to assist you. Call us 01989 767667 or email us on info@leadershiptrust.co
Course Timetable
Our upcoming residential dates are listed below. The programme commences with a 360 leadership audit around 7 weeks before the residential.