Create the conditions of impactful leadership and take your leadership capabilities to the next level
Leadership in Application takes you behind the scenes of the Leadership in Management programme, enabling you to rationalise your experience and equipping you with the insight and tools needed to apply your personal power.
The answer to your question of "What's Next?"
Core Models
Personal Reflection
Action Planning
Who is Leadership in Application for? 

 
For Leadership in Management Alumni who want to:
Reflect on their LM insights and emotional journey in a safe, supportive space

Reconcile their LM experience with post-programme challenges and revelations

Construct a personal leadership "user guide" or "blueprint" for success

Develop a deep understanding of effective leadership practice

Facilitate greater collaboration, engagement and retention in their workplace

Create conditions that enable others to perform and deliver 

 

Revisit core learning and apply them effectively in the real world

Enable the achievement of business objectives

Navigate any challenge with clarity and confidence

Continue to reap the ROI of their commitment to better leadership

Strengthen confidence, self-belief and ability to win hearts & minds! 

 
Programme Delivery & Outcomes
Conducted over a 3 day, in-person residential programme, Leadership in Application is offered on predetermined dates throughout the year at one of our training locations. The nature of the programme allows a degree of flexibility, with bespoke packages available for clients who wish to conduct the programme for a number of previous LM delegates at their desired location. 
Over the course of the residential, you will revisit core learnings with hindsight, alongside our expert facilitators and other past LM delegates, each bringing their own unique experiences and reflections to the programme. Leadership in Application simplifies the perceived complexity of leadership into four key messages and enables you to explore core leadership models in greater depth. 
You will also discover how we facilitated your self-awareness journey, allowing you to make sense of the environment that enabled you to unlock your personal power. 
You will leave with the insight to identify similar dynamics in the workplace, how to anticipate and influence behaviours in others and how to replicate the conditions needed to empower others to perform better. The result? A team that has developed newfound self-awareness and can apply it for maximum impact. You will also have constructed a personal 'user guide' specific to your unique leadership style to guide quick and effective decision making, drive business objectives, enhance working relationships and solidify a deep understanding of leadership practice. 
The

Process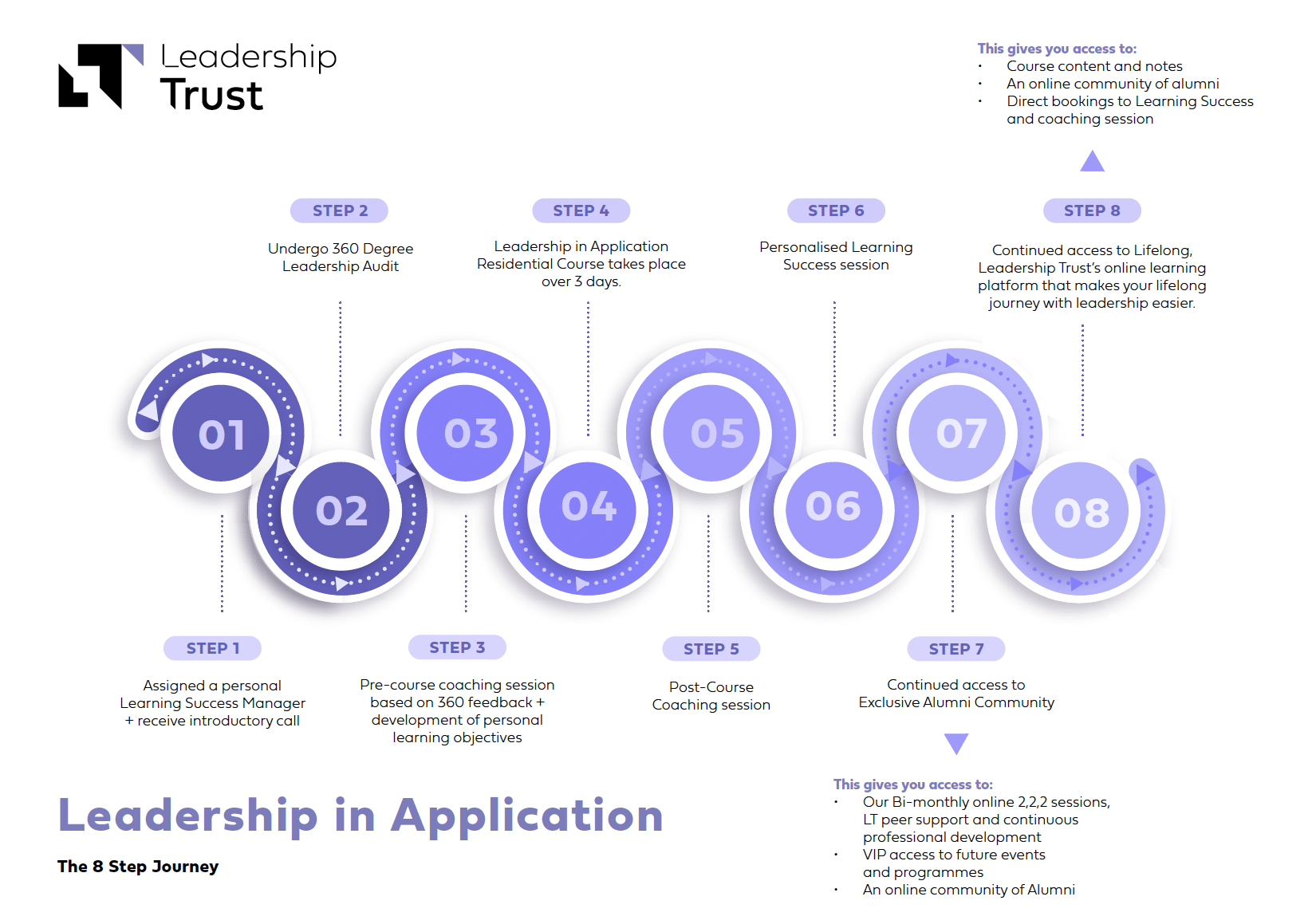 Frequently Asked Questions
If your question isn't answered in this section, feel free to contact us via email or phone where a member of our team will be happy to assist you. Call us 01989 767667 or email us on info@leadershiptrust.co
Course Timetable
Our upcoming open programme cohorts dates are listed below, click through to contact our team for more information, or to secure your spot